_________________________________________________________________________________________________________







Vocopro DA-1000Pro
Professional 3 Mic Digital Echo Mixer
$149.00 , Free shipping ( in U.S. 48 states)

Form and Function at it's best!
The DA-1000 Pro is the newest member to our line of professional karaoke mixers. Like it's big brother the DA-1050 Pro, the DA-1000 Pro sports the latest features desired by both professional and home karaoke enthusiasts alike. With Digital Echo, Delay and Repeat controls, Vocal Cancel and Partner functions, the DA-1000 Pro is a powerhouse of features! And if expandability is what you are looking for, look no more! The DA-1000 Pro will give you 3 additional microphone inputs, 2 extra A/V inputs and 3 extra video outputs, all for a price as slim as its rack space saving construction!

Check Out These Features:

Professional Digital Echo with Separate Repeat and Delay Controls per Mic channel
3 Microphone inputs w/ individual Volume controls and Echo On/Off Switches
Vocal Cancel and Vocal Partner features to delete/add guide vocals on Multiplex Karaoke Tapes and CD's
Music Master/Bass/Treble controls
Mic Master/Bass/Treble controls
Source/Left/Right Level Output Displays
CD+G and DVD input/output jacks
Excellent add-on for expanding karaoke systems
Included mounting bracket's for rack mounting
Compact 1-space design saves valuable rack space
110/220V AC Toggle switch
Dimensions: 19" (W) x 6" (D) x 1 3/4" (H)

_____________________________________________________________________________



Vocopor DA-1055Pro
Professional 6 MIC Digital Echo Mixer/Parametric Equalizer
$199.00 , Free shipping ( in U.S. 48 states) Microphone Mixer, digital Echo, Graphics and Parametric Equalizer in One Rack Space!


DA-1055 Pro has the latest features both professional and the home karaoke enthusiast demands.
Six microphone inputs with three volume controls allows up to six people singing at the same time. The professional digital echo with digital delay and repeat controls helps the singer sound great! The duel seven band stereo equalizer allows for the precise room tuning of the music. The three band parametric equalizer for the microphones feature sweep mid-range control to lift particular characteristics of the vocal or suppress for feedback elimination. The VocoPro Da-1050 Pro is your ultimate choice for great karaoke entertainment made of professional quality with an entry level price tag.


3 Dual-Input Mic Preamplifiers Accommodate a Total of 6 Microphones (3 Front, 3 Rear)
3-Band Parametric Equalizer for Microphones, Features Sweep-Midrange Control to Lift Particular Characteristics of the Vocal or Suppressed for Feedback Elimination
Digital Echo with Repeat and Delay Controls Help Singers Sound Great!
Dual 7 Band Stereo Equalizer for Precise Room Tuning
Dual-Source Audio/Video Input Connects to DVD, CDG or Cassette Players
Vocal Cancel Feature Eliminates Guide Vocal on Multiples CD or Cassette Tapes
Compact 1-Space Design Saves Valuable Rack Space
110/220V AC Mains Switchable Power
Perfect Add on for CDG and DVD Players
Dimensions: 17 1/4" (W) x 6" (D) x 2 1/4" (H)



_________________________________________________________________________



DA-2200Pro
Digital Key Control Karaoke Mixer
$289.00 , Free shipping ( in U.S. 48 states) Hook this professional digital Karaoke mixer up to your existing DVD, CD+G, LaserDisc or CD player and add the excitement of Karaoke to your sound system today! With it's wide variety of excellent Karaoke functions, you'll be ready hit the stage like a star.

DA-2200PRO PROFESSIONAL DIGITAL KARAOKE MIXER EXCELLENT FEATURES:

11 step digital Key-controller
Professional digital echo with repeat and delay controls
Multi audio control
Twin stereo audio/video inputs allow two separate A/V sources to be used
Music bass, treble and volume controls
Microphone master, bass and treble controls
Six mic inputs with three separate volume controls
19" rack mountable design
Echo on/off switch on all three mic channels
110/220V Switchable

---

Vocopro DA-X10Pro
World's First Karaoke Mixer With Vocal Enhancer
$349.00 , free shipping ( in U.S. 48 states)
Vocal expression is essential to any great Karaoke performance. With it, singers can make you "feel" what they are feeling, impacting you long after the performance is over. How does one attain this vocal expression? The answer is complete control over vocal dynamics like tone, texture and sibilance.
With the DA-X10 PRO you can fine tune particular aspects of your voice, through controlling high and low frequency contouring, range of tonal concentration and top and bottom processing of vocal strength. Whether you need to "fatten up" your vocal signal or brighten it for crisp sibilance, the results are just a few adjustments away.
So, if you are seeking to unleash the full-potential of your vocal performances and seek to experience vocal dynamic control, go with the DA-X10 PRO by VocoPro!
Vocal Enhancer with High/Low Contour, Frequency and Process controls for optimized
vocal reproduction and rich, vibrant sound
13-step Digital Key Controller for transposing the key of source music to fit the natural
range of your voice
Digital Echo, Repeat and Delay controls add depth to Vocals
Full function Remote Control for ease of operation
Three Microphone Inputs with individual Volume controls
Dimensions: 19" (W) x 9" (D) x 4.5" (H)
---
____________________________________________________________________


PROFESSIONAL DIGITAL KARAOKE MIXING BOARDS >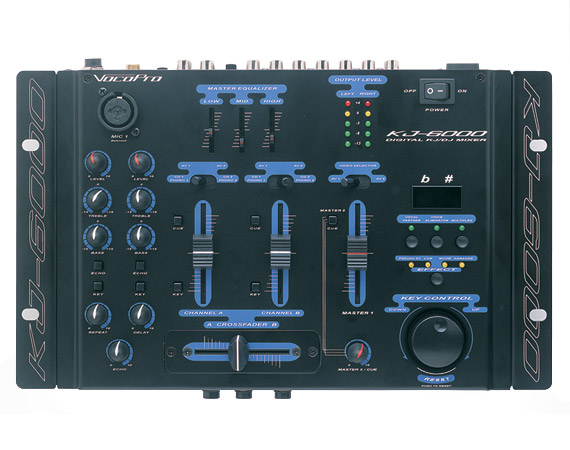 VOCOPRO KJ-6000
Digital Karaoke Mixer with Digital Key Control
$259.00 plus shipping (Free shipping in U.S. 48 states)

Our Newest Member to the Popular KJ/DJ Mixer Series is Here!

WE PACKED THE POWER OF OUR KJ MIXERS INTO A SMALLER PACKAGE! VocoPro brought you the world's first versatile KJ/DJ mixer. Our customers wanted an affordable, easy to use mixer that offered many of the features and the same ruggedness of our popular KJ series in a compact design. We simplified all the things you love about our KJ mixers at half the size and an unbeatable price. It's packed with features that will amaze any home Karaoke or DJ enthusiast. VocoPro is bringing the power of the club system to your Karaoke or dance party.

Finally, with the KJ-6000 you can cue or crossface like a pro between two separate music sources AND get the same great Echo effects and Key Control that VocoPro is known for. DJs will get a kick out of using the Key Control for a cool effect to change their voice, too. We didn't forget to include Vocal Partner for use with Multiplex CDs, a Video selector, and plenty of outputs. There's even a Vocal Eliminator feature which can remove the vocals in the center of a mix on a professionally recorded CD, leaving little or no trace so you can replace them with our own! That can turn a standard CD into a Karaoke CD instantly and also expand your remixing possibilities. Here's the bonus: a total of four microphone inputs, including an XLR, mixed by 2 separate Level, Equalization, and Echo control panels. It's like having at least 2 extra channels!

Closet DJs are now going to be the star of the show when they exhibit their mixing skills and Karaoke performance all from the same board, and the best part is the price won't break the bank. You won't need much technical know-how to operate this simple mixer, either. That's the versatility of the KJ-6000, designed to get up-and-coming DJs started and enable professional KJs to make the party more mobile than ever. Contact your VocoPro dealer today and take the KJ-6000 for a spin!


2 channels with a total of 4 input choices, CD/PHONO and AV each
Professional style crossfader
4 microphone inputs, including one XLR and three 1/4"
2 separate mixed LEVEL and EQ controls; one control panel for each pair of mics/ adds the equivalent of 2 additional channels
ECHO and KEY CONTROL switchability for each mic pair
On-board video selection toggle for easy video switching
2 video inputs and 2 video outputs for multi-screen video options
Key Controller with jog dial
Digital Echo with Repeat and Delay controls for vocal enhancement.
Vocal Cancel and Partner Modes for Multiplex recordings
Vocal Eliminator Mode for Standard CD vocal cancellation (results may vary with each CD)
DSP Effect Pre-sets for musical enhancement
3-Band Graphic Equalizer for precision room tuning
RCA Master 1 and 2 outputs and Record outputs for total integration with your system
Headphone jack for professional quality cues, previewing, and practicing
_________________________________________________________________________________________________________________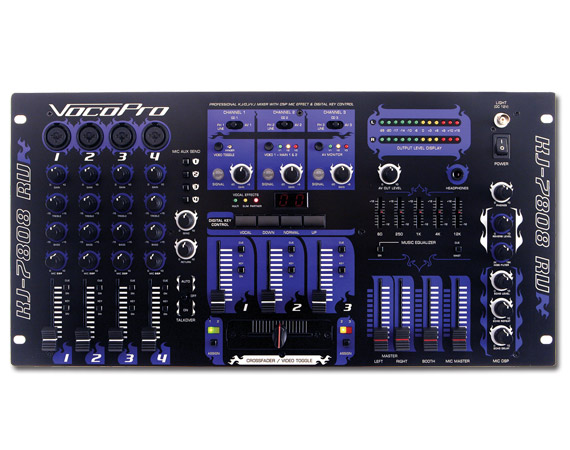 Vocopro KJ-7808 RV
Professional KJ/DJ/VJ Mixer with DSP Mic Effect and Digital Key Control and Built In 7 Band Graphic Equalizer
$499.00 plus shipping (Free shipping in U.S. 48 states)
Professional grade KJ, DJ and VJ mixer with Video Select Toggle/Crossfader
DSP Vocal Reverb with Level control
Two Main video outputs plus one more for use with a monitor (RCA)
DSP Vocal Echo with Level, Repeat and Delay controls
Crossfader and video toggle in-one automatically switches video when fading between audio channels
4 microphone channels, each with Master volume sliders and Gain, Bass, Treble and DSP Level controls
5-Band Graphic Equalizer for best fidelity and precision tuning
3 A/V channels each with gain control, volume slider and illuminating signal meter
Assignable vocal effects Send/Return channel with Send and Return level controls
Assignable 11-step Digital Key Controller
Vocal Cancel and Vocal Partner for use with Multiplex CDs
Vocal Eliminator reduces or removes vocals from standard CDs
LED Output Level Display meter
Talkover function with automatic mode
Headphone jack with level control
12V DJ lamp jack for professional production
19" rack mountable, requiring only 6 spaces

Inputs:

4 XLR / ¼" microphone
3 L/R RCA audio
3 L/R RCA stereo CD (CD1, CD2, CD3)
3 L/R RCA stereo Phono (PHONO1, PHONO2, PHONO3)
3 RCA video (AV1, AV2, AV3)
1 Remote key control (1/8")

Inputs:

1 Balanced L/R XLR Master
1 Unbalanced L/R RCA Master
1 L/R RCA Record out
1 L/R RCA Auxiliary audio (A/V channels)
1 ¼" microphone (Mono)
1 L.R RCA Booth
2 RCA video (Main)
1 RCA video (monitor)
1 ¼" headphone


---
AUDIO2000 NEW AVAILABLE NOW !!
AKM-7015
a Great Add on for DVD, Laser Disc or Any Audio/Video Player to turn into a Karaoke System
---

The Audio2000'S AKM7015 key & digital echo karaoke mixer is an easy-to-use, yet sophisticated entertainment equipment designed and built with the goal of total entertainment. A rack-mount kit is included in the AKM7015 package to have the AKM7015 be a rack-mountable unit.
The AKM7015 kwy & digital echo karaoke mixer features two microphone inputs and two music source inputs. Up to two microphone inputs can be mixed with one of the two music sources. There is a master volume control knob to control the overall sound level. Two individual microphone volume control knobs are featured to adjust each microphone volume individually so that various loudness of individual voice can be compensated as desired. Both the microphone input sound and the music source input sound can have the tone adjusted through a treble tone control knob and a bass tone control knob respectively.
The AKM7015 key & digital echo karaoke mixer further features an echo control function, and a voice canceling function ( not for regular audio CDs) . The echo control function enables the users to control or adjust the echo volume, the echo delay, and/or the echo repeat. The voice canceling function enhances the users' entertainment capacity by allowing users to remove the multiplexed vocal sound from the background music as desired.
The AKM7015 key & digital echo karaoke mixer has been engineered for high quality sound with a wide dynamic range, low noise level. This is achieved with great attention to various product development stages, from the early product planning stage, through the high quality circuit design stage, to the final production stage with strict component selection. All of these make the AKM7015 key & digital echo karaoke mixer an enjoyable karaoke entertainment vehicle for all the users.
Features Configured To Be User Friendly
Digital Echo Control: Vol/Repeat/Delay-time
Digital Key Control
Two Microphone Inputs
Two (2) Individual Microphone Volume Controls
Microphone Tone Control (Treble/Bass)
Master Volume Control
Music Balance, Bass, Treble Control
Multiplex
Record Out, Pre-out
Signal-to-Noise Ratio (IEC-A): 95dB

Two Input Source Selections
AKM-7015


$149.00 plus shipping (Free shipping in U.S. 48 states) ________________________________________________________________________________________