KARAOKE DVD / CD+G Players
---

---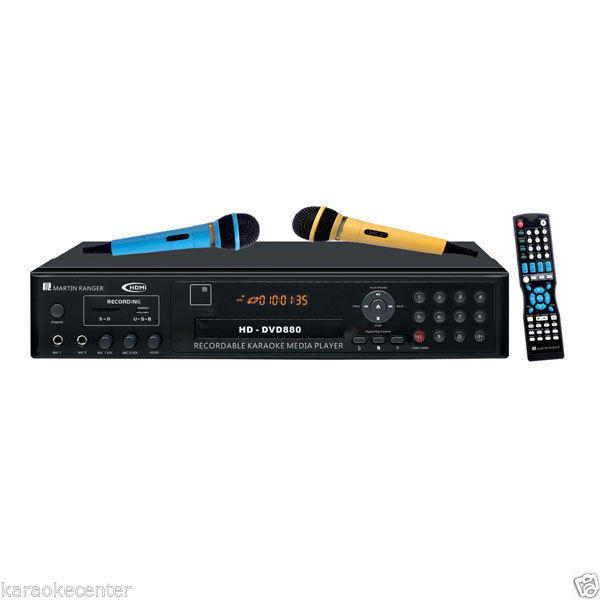 Martin Ranger HD-DVD880 HDMI USB Karaoke DVD Player, 2 Wired Microphones
Record and convert to SD or USB drive:
CDG with your voice to MP3+G, VCD/CD with your voice to MP3
4GB SD or USB can store 900 songs in MP3+G format

This karaoke player HD-DVD880 plays most of discs. You can record your singing with a CD+G or MP3+G track and it will rip the graphic when it is recording. You can "record" all your performances to the memory card. Once you are done recording, you can review your performance or send the track to your friends or post on-line.

You no longer need an expensive PC and a special CD-ROM to convert your discs to MP3+G tracks.

With the CD+G to MP3+G converting function, you can rip any of your favorite tracks to a memory card and you can backup your disc forever without the need of the original CD to play your track.

MP3+G is the most popular downloaded karaoke format. It enables you to compress the file to about 10% of its original size and you can transfer and play on any PC. Most KJ/DJs also use this format for their gigs.

Features/Specs:
Compatible with MP3+G, CD, DVD-R, DVD-RW, VCD, MP3, CD+G, DVD, AVI, MP4, DivX

Last memory function: When the power is turned off without taking out the disc, the next time the power is turned on it will start to play where you stopped at last time (Manual : 6.1.9 Power Resume.)

Record singing while playing CD, CDG, MP3+G onto a SD card or USB drive (Supports up to 32GB)

Able to read files off USB drive up to 32GB

Convert a single track or whole CD+G disc into MP3+G files

2 microphone inputs with individual volume control

Professional karaoke mixer with echo volume adjustment

+/- 6 13-Step key control

Signal system: PAL/NTSC/AUTO

HDMI output up to 1080p HD video output

Video output: Composite Video, S-Video, Component Video

Audio output: 2 Channel, 5.1 Channel, Optical and Coaxial

Power AC 100~240V 50/60Hz

Worldwide Compatible - Can be used anywhere in the world or play any discs from around the world!

You can rip any regular CD into MP3 format using this player's encoding function
Package Includes:
Remote Control

Power Cable

RCA Cable

2 Meter HDMI cable.

Instruction Manual

Warranty Card

2 Free Wired Microphones
Martin Ranger DVD-880 with 2 karaoke mics SOLD OUT
DVX-668K
Multi-Format USB/DVD/CD+G Karaoke Player


The DVX-668K Multi-Format disc player from VocoPro is packed with features and compatible with the most popular media formats. Play CD+G discs for Karaoke performances, listen to your favorite CDs and MP3s, view a slideshow of your digital photographs or watch movies on DVD or in DivX format. The USB connection on the front panel allows you to play your digital files from a USB thumb-drive. Connect to your audio system via 5.1 surround sound or digital audio through optical or coaxial outputs. The DVX-668K is a valuable asset to a performance set up or home entertainment center, providing plenty of versatility and playback options for any application.


Multi-format disc player reads DVD, CD, CD+G, Mp3, HDCD, and VCD
USB thumb drive playback*
2 microphone 1/4" input channels with individual volume controls
5.1 channel digital surround sound
Digital Echo gives vocals that hard-to-find professional sound
Full-function remote control
PAL/NTSC compatible for worldwide use
Shipping Dimensions: 19 1/2" (L) x 12 1/4" (W) x 5 1/2" (H)
Shipping Weight: 9 lbs



Vocopro DVX-668K $139.00 ( free shipping in Continental USA) Click Here to see CDG karaoke song packs for this machine
Click Here to see karaoke discs for this machine
_________________________________________________________________________________________________



VOCOPRO DVX-890K
Multi-Format Digital Key Control Karaoke DVD/DivX® Player

Direct access multi-format disc player supports DVD, DivX®, VCD, CDG, MP3, PHOTO-CD, and CD/DVD-R RW formats for unparalleled media entertainment compatibility.
Experience the convenience of a jukebox on a disc, enjoying hours of selected audio/video files from custom DivX® discs, each capable of holding hundreds of DVD quality audio/video files
(PC required for creating DivX® discs)
Digital Key Controller accessible from front panel for changing the key of the music to fit your vocal range
Intergrated Karaoke Mic Mixer with two Microphone Inputs, individual Volume controls & Digital Echo
Track programmability accessible from front panel
Built in Dolby Digital (AC-3) and Dolby DTS decoders for cinema sound quality
Full-function remote control for ease of operation of all system features
Progressive Scan
Audio Outputs: 5.1 Channel, Stereo L/R, Digital Coaxial, Digital Optical
Video Outputs: Y, Cb, Cr, Composite RCA, S-Video, SCART & VGA for universal video compatibility
100V/240V and NTSC-PAL compatible for use worldwide




Vocopro DVX-890K $SOLD OUT .




card capabilities, you can easily access your digital music and video both at home and on the go. The DVG-777K III has been updated and now supports MP3+G!

Multi-format disc player reads DVD, CD, CD+G, Mp3+G, Mp3, and VCD
USB flash drive and SD card playback*
Two 1/4" microphone inputs with individual volume controls
Cue mode cues each track for professional karaoke performance
5.1 channel digital surround sound pre-outs
Direct track access
Digital echo gives vocals that hard to find professional sound
Full function remote control
PAL/NTSC compatible for worldwide use

*SD card and USB flash drive not included

Actual Unit Dimensions: 17" (W) x 10" (D) x 2.25" (H)
Actual Unit Weight: 4.6 lbs
Shipping Box Dimensions: 19.5" (W) x 11.23" (D) x 4.5" (H)
Shipping Weight: 7 lbs
Rear Panel Connections:
Component (Y/Pb/Pr) video outputs
RCA video output
Coaxial digital audio output
Optical digital audio output
RCA 5.1 channel audio output