301-DISC CD+G CHANGER
Please Call Toll Free 1.888.9.karaoke (1.888.9527265) or 310.544.1828 to order






---
---

---

PIONEER 301 Disc CD Changer + Leader CDG-1 CD+G Decoder

$399.00 ( $25.00 shipping in US 48 states )
SOLD OUT !










PIONEER PD-F1009 Leader CDG-1
PIONEER PD-F1009 300 + 1 CD Changer
Center Loading Mechanism ( 43.3 cm deep)
10 Custom Filing Modes
One More 301 CD Changer connectable
Jog Dial
CD Text With Dot Matrix Display
Powered Door
Convenience Features
50 Track Best Selection Memory
Headphone Out w/ Volume Control
Title Input
CD Deck Synchro
Memory Back-up
Full random Play
20 Disc Previous Disc Scan
36 Track / Disc Programmed Play
Programmed Hi Lite Scan
Memory Backup approx. 30 Days
Memory Hold
Last Disc Memory
Programmed Total time Display
Pioneer SR Remote Control
Pioneer SR In / Out for System Integration
Performance Features
Low - Noise / Low - Loss Laser Pickup
1 Bit D/A Converter
Large Insulator Feet (Gold) Front and Back
Optical Digital Output
Specifications
Frequency Response 2 Hz - 20 kHz
Signal to Noise Ratio (EIAJ) 98 dB
Dynamic Range (EIAJ) 96 dB
Distortion (EIAJ) 0.003%
Playback Options
3 Playback Modes: Single Disc, All Disc, Custom
3 Random Play Modes Single Disc, All Disc, Custom
8 Repeat Modes

LEADER CDG-1 CDG DECODER ( optical cable included)

You can get CD Graphic video on TV/Monitor when you play CDG discs on a CD Player with Digital output.

FEATURES and SPECIFICATIONS

Digital inputs: Coaxial and Optical

2 select input sources: Coaxial/Optical switch to select source

Video Output, NTSC/PAL

Power Supply: DC 9-12V, 300mA, AC/DC adaptor included

Power On/Off switch

Power On LED, CDG decoding LED

Optical cable included

Dimensions: 8-1/2"W x 1-3/4"H x 5-1/2"D

Weight: Net 2 lbs., Gross 3 lbs.

CONNECTIONS
Please connect Digital output of your CD player to CDG-1 adaptor Digital input. You can use Optical or Coaxial input depend on what kind of digital output on your CD player. Please note, some CD player doesn't have Digital output.
Connect CDG-1 video output to your TV/Monitor. If your TV doesn't have Video input, you need to use RF Modulator and switch to channel 3 or 4, then connect to TV antenna in.
If you don't have RF modulator, you can ask your dealer to get one LEADER RF 6202. You still need to connect Audio output from your CD player to Mixer/Amplifier or Receiver/Amplifier. Please note, CDG decoder can only process Video, not Audio.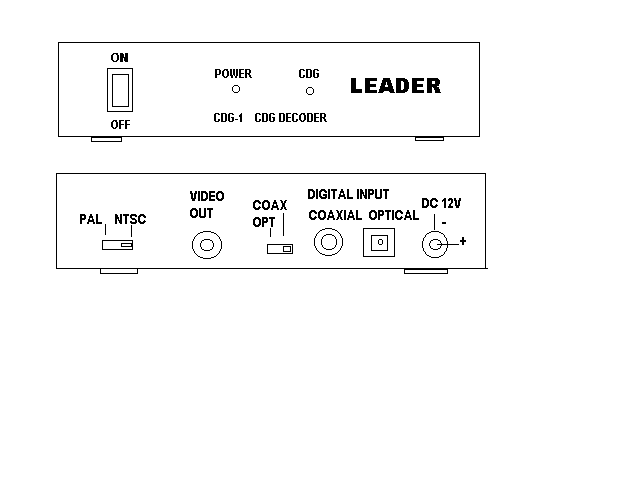 ---