DIGITAL KARAOKE MIXING AMPLIFIERS >
NEW


DA-9800 RV
$749.99 free shipping ( in U.S. 48states)
Dual Digital Processor Karaoke Mixing Amplifier
We proudly present the worlds first Karaoke Mixing Amplifier with Dual Digital Processors... the DA-9800 RV! By combining the already in-demand VocoPro Digital Echo Processor with the new 24-bit VocoPro DSP Reverb Processor, singers and KJ's can now create the "ideal" vocal sound by blending the Digital Echo effect with the new DSP Reverb, adding a near 3D sound to their Microphone Channels!

For music, a handy built-in Sonic Enhancer will transform the sound of your music from a "background" sound to an "outward and lively" sound, captivating your audiences to not only hear, but feel the music! Also, with the built-in Studio Quality Digital Key Controller, users can change the key of their music 15-steps for a total of 7 whole notes, so no more missing out on songs that aren't in your natural vocal range!

Packed with 300 watts of clean & crisp power, tons of Audio/Video expansion possibilities and DSP Reverb, the DA-9800RV is soon to be the industry standard and the unit singers ask for when they want the best!

Excellent Features:

300W + 300W Maximum Power Output at 4 ohms
150W + 150W Continuous Power Output at 4 ohms
15-Step (half tone) Studio Quality DSP Key Controller with Auto Reset
24-Bit DSP Reverb for Enhancing Vocals
Built-in Sonic Enhancer for Low/High Frequency Enhancements
Vocal Cancel and Vocal Partner
Music Bass and Treble Controls
6 Microphone Inputs with Bass and Treble Controls
Mic Out/Mic Return Jacks for Outboard Vocal Effects Unit
Remote In Jack for External Devices
Noise reduction Circuitry for Superb Recording Results
Multiple Auto A/V Source Selector (3 Video, 3 Audio) with Background Music/Video
Four Speaker Output
Full-Function Remote Control
2 AC Outlets Unswitched (200W)
Dual Voltage Selector
Frequency Resp: 20-20,000 Hz (±3db)
S/N > 75db
Dimensions: (W x D x H) 17" x 14.5" x 5"
Shipping Weight: 33 Lbs.
---


DA-8909RV
$749.99 free shipping ( in U.S. 48states)

Digital Karaoke Amplifier/Mixer With Vocal Enhancer
and DSP Reverb


A great vocal performance requires the right set of tools to do it justice. For the best sound, Vocal Enhancer and DSP vocal Reverb are two of the most popular tools for recording artists worldwide. Similar products practically require a sound engineer to use them properly, though VocoPro has a better alternative. Simplifying the functions of a studio Vocal Enhancer and combining them with our popular Mixing Amplifier, the new DA-8909RV has everything you need to sound like a star.

Excellent Features:

• 180W + 180W maximum power output Mixing Amplifier
• Vocal Enhancer with High and Low Contour, Tune and Process controls for
optimal vocal reproduction and rich, vibrant sound
• ±6-step Digital Key Controller for transposing natural key of source music
• Vocal Cancel/Vocal Partner modes for removing or adding guide vocals from
Multiplex Karaoke media
• Digital Echo with Repeat and Delay controls to add depth and space to vocals
• Three Microphone Inputs with individual Volume controls
• Full-function remote control for ease of operation
• Master Music and Microphone Volume controls
• LED Gain setting to toggle display intensity
• Exciter sharpens the treble for brighter sounding music
• 3 RCA style Video Inputs and 3 Video Outputs
• 4 dedicated RCA L/R audio input channels
• Dedicated Wireless Mic Input and Mic Insert
• Mic Output with switchable Echo
• Connects up to 4 speakers with A/B switch between pairs _____________________________________________________________________________________________________________________________________________________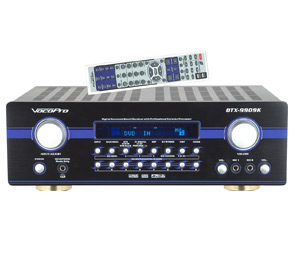 DTX-9909K


$549.99 free shipping ( in U.S. 48states)

A top-of-the-line solution for those who are serious about home-theater surround sound technology and vocal entertainment. Another one of VocoPro's world's first technologies, the DTX-9909K combines a 7.1 digital surround sound receiver with powerful DSP vocal effects, giving you the best of both worlds in one amazing machine.




Standard Stereo Mode: 100W + 100W (8 ohms MAX)
Seven Channel Mode: Main 200W, Center 100W, Surround 200W,Surround Back 200W (8ohm MAX)
DSP Vocal Reverb
DSP Feedback Reducer
7 Input Channels (5 A/V, 2 Audio only)
2 MIC Inputs with Individual Volume control
Treble and Bass controls
Digital AM/FM Tuner with 64 station presets
Automatic Audio Format Recognition
Headphone Jack with Speaker Bypass
Dolby Digital Decoder
DTS Decoder
Shipping Dimensions: 18" (L) x 22" (W) x 10" (H)
Shipping Weight: 33 lbs 1 RCA Video 1 S-Video 1 Component (Y/Pb/Pr) FEATURES
7.1 Dolby Digital Surround EX Decoder
DSP Vocal Reverb
DSP Feedback Reducer
7 Input Channels (5 Audio/Video, 2 Audio-only)
Treble and Bass Tone Controls
Digital AM/FM Tuner with 64 Station Presets
Full-Function Remote Control
Automatic Audio Format Recognition
Remote Control Standby
Sleep Timer
Headphone Jack with Speaker Bypass
Dolby Digital Decoder
DTS Decoder
7-Channel Stereo Mode
2-Channel Stereo Bypass Mode
7 DSP Modes: Church, Disco, Hall, Jazz, Live, Stadium, and Theater



---


DA-7909RV
$399.99 free shipping ( in U.S. 48states)
SOUD OUT

DPS Karaoke Mixing Amplifier
The DA-7909RV incorporates the latest DSP technology for Professional Karaoke and is the world's first DSP karaoke amplifier to combine Digital Reverb and Echo with Vocal Enhancer and a Feedback eliminator, giving you unparalleled sound quality and tone control.

Excellent Features:

• 600W (MAX) power output
• 3 microphone inputs (¼") with individual volume controls plus 2 additional ¼" inputs
• DSP vocal Echo with Repeat and Delay controls
• DSP vocal Reverb with Time and Level controls
• DSP Feedback eliminator with 3 available strength levels
• Vocal enhancer with 3 available levels
• 4 memory slots available to save custom effects
• Vocal Reducer removes or reduces the vocal track on regular CDs
• Vocal Cancel removes the vocal track on Multiplex formatted CD+G discs
• ± 5-step Digital Key Control
• Center vocal channel (C-MODE) function toggles between Mic-only and Music-only for the separate Vocal pre-out (requires additional powered speaker)
• Connect up to 4 external A/V players (RCA)
• Automatic or Manual input selector
• Full-function remote control

Controls

• Master Music volume control
• Master Microphone volume control
• Music Bass and Treble tone controls
• Vocals Bass and Treble controls
• Master Effect Level control

Connections

• Inputs: 4 RCA AV (DVD, CD, CDG, AUX), Digital RS232, External EQ L/R RCA in
• Outputs: 2 L/R banana plug Speaker outs , 1 L/R RCA Record out, 1 RCA video out, 1 L/R Pre out, 1 L/R Center out, External EQ L/R RCA out
• Microphones: 5 inputs (¼")

---
DA-3900K+
$299.99 free shipping ( in U.S. 48states) SOLD OUT !!
200W Digital Key Control Karaoke Mixing Amplifier
Have you ever heard yourself sing into a Karaoke machine and thought you should sound better? Well, chances are that system probably didn't provide all the high quality Karaoke features available now in VocoPro's new DA-3900K Digital Karaoke Amplifier.

Let us tell you why....

The new DA-3900K is the essential component for your custom high quality Karaoke system, in-home or out. It incorporates state-of-the-art technology, and fully digital Karaoke features, so your Karaoke amplification needs are met. Simply connect the DA-3900K to your CDG, LD, or DVD player, and a set of speakers, and you're ready to sing through 200 watts of pure, clean, Karaoke power! VocoPro's unique twin-toriod transformer design provides the ultimate in Karaoke amplification by supplying power independently to each feed, positive and negative. So you get more clear and powerful sound for your vocal performances. But don't just take our word for it. Audition a new DA-3900K for yourself. You'll sound so good you won't ever want to put down the microphone!



200W Max Power Output
Twin Toroid Transformer for Clear, Powerful Amplification
Professional Digital Echo with Repeat and Delay for Professional Sounding Vocals
9 Step Digital Key Controller Changes the Key of the Music without Changing the Tempo
On Board Video Switching with 3 Sets of A/V Inputs, 2 Audio Outputs and 1 Video Output
4 Microphone Inputs with 2 individual Controls
Microphone Bass & Treble Controls
Music Bass & Treble Controls
Music Balance Control
Master Microphone and Music Volume Controls
110-120V / 220-240V Switchable
Frequency: Resp. 20hz~20khz
Dimensions: 16.5" (W) x 16" (D) x 5.5" (H)
Shipping Weight: 25 Lbs.
---
DA-3700Pro

NEW

200W Digital Key Control Karaoke Mixing Amplifier

$249.99 + free shipping ( in U.S. 48states)

This super affordable powered mixer gives you absolute control over the quality of your vocal/music mix. Each mic and music channel has individual EQ, Balance, Volume and Echo Level controls. The Echo channel lets you control the echo's High and Low EQ, Repeat, Delay and Volume as well as switch between stereo and mono echo modes. And with 9-step Digital Key Control and switchable AV input channels this mixer is great as a high-end home karaoke unit or for the pro KJ/DJ looking to simplify their rig.

Excellent Features:

120W + 120W at 4-Ohm maximum power output
100W + 100W at 8-Ohm maximum power output
9-step Digital Key Control
2 unbalanced 1/4" microphone inputs with -20dB gain pad, Volume, Balance, Echo and 3-way EQ controls on each channel
2 Switchable RCA A/V inputs for source players (DVD, CD+G, VCD, etc.)
3 RCA audio outputs (Record, Line and Microphone) for output to recording devices, amplifiers and mixers
2 RCA Video Inputs/Output for video connection to a TV or monitor device
Effects Loop for Integration of Outboard Effect Units
Master Volume, Balance and Low/High Frequency Controls for Input Source Music
Master Lo/Hi Frequency, Repeat and Delay Echo controls
2-Way Binding Post Speaker Outputs
110V-220V Compatible
Dimensions: 19" (W) x 16 1/2" (D) x 6 1/2" (H)
Shipping Weight: 37 Lbs.
_______________________________________________________________________________________________________________________________



CDG-600RF
$749.99 free shipping ( in U.S. 48states)
250W Digital Key Control CD/CDG/Cassette/Player/Mixing Amp.
( Remote for CD/CDG operations only )
The CDG-600RF is very similar to our already popular CDG-500RF with one major difference.... a built-in 250W power amplifier! By adding a power amplifier, owners of the CDG-600RF have to do nothing more than connect speakers and microphones to have a full-fledged Karaoke system. By combining a shock-resistant CDG player with a Cassette deck, you can play and record your own demo tapes with ease and distribute them to your fans! To make sure your recordings come out as best as possible, we have now included a Record Level Control for the cassette deck complete with an LED meter display. The CDG-600RF also is packed with Karaoke features such as a 19-step Digital Key Controller, Digital Echo, Vocal Cancel and Partner features to remove guide vocals from multiplexed Karaoke tracks. There are 2 microphone inputs with Individual Volume Controls allowing singers of different vocal intensity to perform duo's together sounding great! Also added is a third DJ microphone input that is echo bypassed since most DJ's prefer dry output for making announcements. Three audio and two video inputs allow DVD, VCD and LaserDisc players to be connected, utilizing all the CDG-600RF's Karaoke mixing controls. The bottom line is VocoPro's CDG-600RF is truly a wise investment for any home or club ready for quality Karaoke entertainment!

125W + 125W Max Power Output at 8 Ohms
19-Step Digital Key Controller
Digital Echo for Vocal Enhancement
2 Microphone Inputs with Individual Volume controls
3rd DJ Microphone Input with Echo Bypass for Dry Announcements
Microphone Bass and Treble controls
Record Volume Level control w/ Record LED Display
Vocal Cancel and Partner features to Remove Vocals from Multiplex Karaoke Media
Skip-Free Shock Resistant CD/CD+G Player
Music Bass and Treble Controls
Cassette Deck to Play and Record Your Mix
Inputs: Two A/V (RCA), One AUX (RCA)
Outputs: Two Audio (RCA), One Pre-Out (RCA), One Video Out (RCA)
Built in RF Modulator (NTSC only)
NTSC/PAL Switchable
110V-220V Switchable
Remote Control for CD/CDG operations
Dimensions: 19" (W) x 14 1/2" (D) x 6" (H)
Shipping Weight: 27 Lbs.
______________________________________________________________________________________________________________
AUDIO 2000
AKJ-7403



AKJ7403 - Prof. Karaoke Mixing Amplifier with Digital Echo, Key and Feedback Controls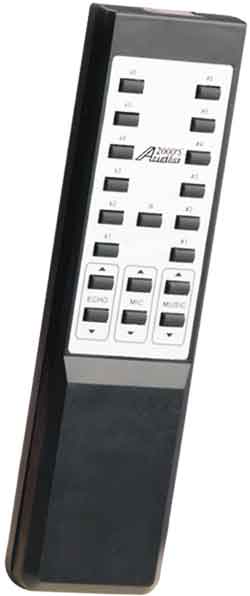 | | | |
| --- | --- | --- |
| | | |
| | $599.00 plus free shipping in U.S. 48 states | |
1200W max. (6

00

W +

60

0W

max

.

)

/ 600W rms (300W + 300W rms)

Power Output (8 Ohms)
Digital Echo Volume/Delay/Repeat

/Treble/Mid/Bass

Controls

Digital Feedback Controls (Freq: 80 - 7.5K Hz; Gain: +/- 12 dB)

Dual Echo Digital Sound Field Simulation

Five

Microphone Inputs
Master Microphone Volume Control
Three (3) Individual Microphone Volume Controls
Microphone Tone Control (Treble/

Mid/

Bass)
Master Music Volume Control
Music Treble

/Mid/

Bass Controls
Digital Key Controller (+/- 6 Steps)
Microphone Sound Effector Loop
Music Sound Effector Loop
Four Stereo Audio Inputs

Four

Video Inputs

(DVD, VCD, AUX, BGM)

Four Video Outputs ( 1 - 4)

Two Pre-Outs

Input Level Controls

Remote Control
<>
Max. Output

120

0W / 8 Ohms (EIAJ) (

600

W X

600

W)
Total Harmonic Distortion
0.03% @ 1KHz, -3dB, 6 Ohms
Mic. Input Sensitivity
6mV / 600 Ohms
Input Sensitivity
300mV / 22 KOhms
Output Level (Pre-Out)
2.5V / 1 KOhms
Mic. Freq. Response
10 - 25,000 Hz
Music Freq. Response
10 - 40,000 Hz
Tone Control Char. (Bass)
+/- 10 dB @ 100 Hz
Tone Control Char. (Treble)
+/- 10 dB @ 10 KHz
Speaker Terminal Load
4 to 16 Ohms if use either terminal 1 or 2
6 to 16 Ohms if use both terminals 1 and 2
Key Control Range
13 steps, +/- 3 Tones
Video Input Sensitivity
1Vp-p @ 75 Ohms
Video Output Sensitivity
1Vp-p @ 75 Ohms
Power Consumption

1300 W

AC Power Outlets(Switched)
One Outlet (100W Max)
AC Power Outlets(Unswitched)
One Outlet (200W Max)
Dimensions (W X H X D)

17.0" X 5.2" X 17.1"

Weight

29.8 lbs
ITEMS QUANTITIES
AKJ7403 Unit 1
Remote Control 1
Owner's Manual 1
AAA Batteries 2
Rack Mount Ears 2